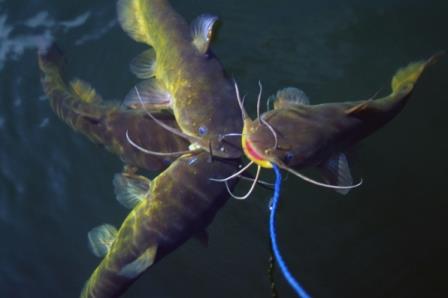 Filling a stringer with delicious bullheads can be easy for the angler with a few tricks up his sleeve. (Photo: Keith Sutton)
I love fishing for bullheads. The big ones reach only a few pounds in size, but these little catfish
eat almost anything
strike hard
fight tenaciously
are delicious when rolled in cornmeal and fried golden-brown.
Do you need any more reason to be a fan of bullheads? It's not surprising thousands of people like me are bullhead fanatics. In fact, judging by numbers caught, bullheads are the #1 sportfish in states such as Iowa and Nebraska, and they're popular everywhere else, too.
If you're among the many who enjoy fishing for these bantam brawlers, or a convert just learning the bullhead-fishing craft, here are nine tips to help you squeeze the most enjoyment out of your next fishing trip.
1. Use sharp hooks with barbs exposed
Many novice bullhead fishermen have trouble hooking cats. Remember these simple methods that will help alleviate that aggravation. First, be sure your hooks are needle-sharp. Run each point over a fingernail. Sharp hooks dig in. Those that skate across the nail without catching should be honed or replaced. Second, instead of burying your hook in bait, leave the barb exposed. Catfish won't notice, but you will — you'll get more hookups.
2. Avoid shadows
Bullheads scurry for cover whenever a shadow passes overhead, fearful it could be a heron, eagle or other fishing-loving bird. Therefore, if you fish during daylight hours in clear water, you'll have more luck if you place yourself so the sun never casts your shadow on the spot where you are fishing.
3. Make your own doughbait
For a bullhead catcher that's hard to beat, whip up a batch of this easy-to-make doughbait. Run a pint of chicken livers through a blender until liquefied. Transfer to a bowl, then stir in Wheaties cereal a little at a time until the mixture becomes firm and easy to handle. Roll into grape-size pieces and place in a zip-seal bag. Cool until firm in your refrigerator or cooler before using.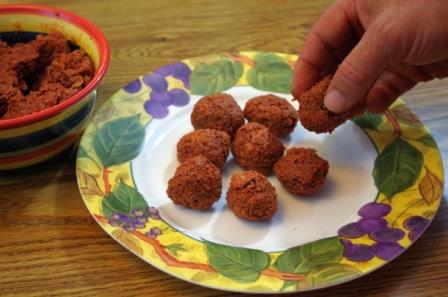 Bloody chicken livers and Wheaties cereal can be combined to make doughballs that bullheads can't resist. (Photo: Keith Sutton)
4. Give worms a soak
Here's an old-timey trick that might garner you some extra bites. Before you go fishing, soak your fishing worms in pickled beet juice for several hours. This kills the worms and turns them a red color that's more attractive to bullheads. It also toughens the worms, making it harder for bullheads to steal them from your hook.
5. Try grocery baits
Doughbait and worms are hard to beat for bullhead bait, but a trip to the grocery will turn up many other superb enticements. Bacon works great (especially hickory-smoked). Bullhead relish hot dog chunks and cheese, too, and fresh bloody chicken livers are always top-notch cat catchers. Where bullheads are plentiful, bread and even bubble gum will work in a pinch.
6. Avoid bullhead turnoffs
It's very important for catfish anglers to remember that all catfish, including bullheads, have turbo-charged senses of taste and smell. They're covered from nose to tail with taste buds in the skin and whiskers, and have much-better-than-average olfactory organs. This can work in your favor because heightened senses allow catfish to find your bait more easily. But bullheads also can detect, and will avoid, even minute quantities of sunscreen, gasoline, oil or insect repellent on your bait. Avoid getting any of these on your hands, if possible. Or, slip on some latex gloves before handling your bait.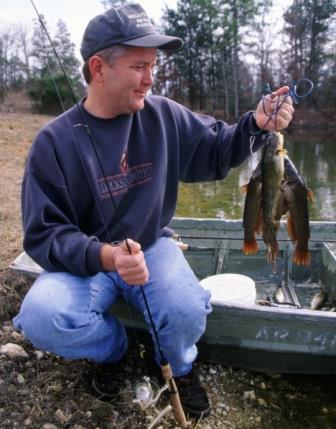 Bullhead fishing often is thought to be a warm season pursuit, but fishing deep holes in winter is a surefire way to catch a mess of these scrumptious panfish. (Photo: Keith Sutton)
7. Fish in winter
Bullheads can be caught year 'round, but my favorite months to fish for them here in the South are January and February. When the water temperature is between 40 and 55 degrees, bullheads congregate in the deepest water. I drop a rig baited with chicken liver to the bottom of a hole, then crank the bait up a foot above the substrate. The cats usually strike quickly. In a couple hours, it's not unusual to catch 15 to 20. You may struggle to catch them through the ice, but in open water it's a great way to liven up a dreary winter day, and bullheads never taste better than when fresh-caught from icy-cold water.
8. Kids' favorite
Because they're easy to catch and abundant in many waters, kids love fishing for bullheads. So next time, take a youngster along. Transferring your knowledge and skills to an enthusiastic kid makes bullhead fishing one of best of all ways to enjoy time outdoors.
9. Try this tasty recipe
Taking a kid fishing is one reward, but another is eating the bullheads you catch. Throw them on ice as soon as they're caught and remove all the dark red flesh along their sides when cleaning them. Then try this scrumptious recipe: Combine 3/4 cup yellow cornmeal, 1/4 cup flour, 2 teaspoons salt, 1/2 teaspoon cayenne pepper and 1/2 teaspoon garlic powder in a large bag. Add fish and shake to coat. Pour 1 inch of canola or peanut oil in a skillet and heat to 365 degrees. Fry fish on both sides until it flakes easily with a fork, about 5 minutes. Serve piping hot.
Source : blog.havalon